комплект освещения солнечной Радио Мини Fm 30W
МТО SL216FM
1. About30w мини Fm солнечной радио освещения Kitdescription:
Remote control
Radio remote Controller
Solar Panel
1pc 18V30W polycrystalline panel+ 5m cable
SMF lead Acid Battery
1pc 12V20Ah rechargeable
Lamp
2pcs LED 3W lamp + 5m cable of each bulb
USB port:
2pcs 5V output for mobile, MP3,MP4, digital camera charging
Indicator
LEDs 25%, 50%, 75%, 100%
Fully charging time
About 8 hours
Lighting time
2pcs bulb: 28 hours; 4pcs bulbs: 14 hours; 6pcs bulbs: 9.5 hours
Size
Elec. box: 224*109*190mm Panel: 505*465*25mm
Weight/ctn
(Power box) N/W:25kg, G/W:26.00KG/3sets;
(panel) N/W:12.80kg, G/W:14.30kg/3pcs
2. особенности 30w мини Fm солнечной радио комплект освещения:
* Радио /Bluetooth/ гарнитуры / TF карта / U флэш-диск
* Главная освещение / Освещение для кемпинга / аварийного освещения
* Мобильный / MP3 / MP4 зарядное устройство
* Индикатор питания для напоминания власти по-прежнему
* Два способа зарядки. На панели солнечных батарей или адаптера переменного тока
* Plug and play солнечной комплект с ручкой
* Солнечный автоматический регулятор освещения: с регулируемым время выполнения, защита
3. фотографии показывают 30w Mini Fm солнечной радио комплект освещения: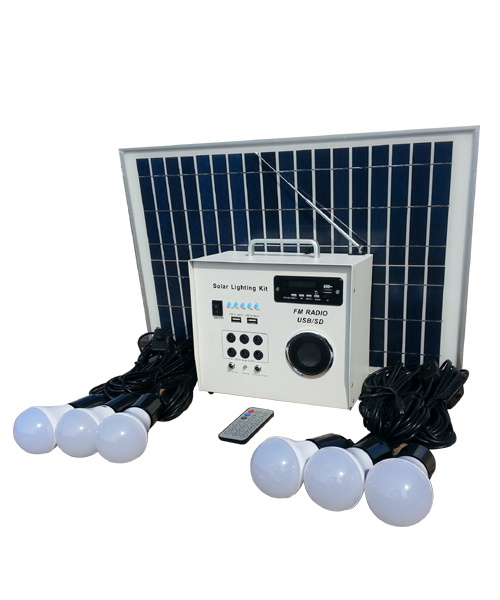 4. Упаковка и доставка:
Packaging
3pcs/ctn(for power box & solar panel)


carton size: 545*300*495mm(power box)

550*185*470mm(solar panel)

20ft container loading: 218 cartons(654 pcs)
40ft container loading: 450 cartons(1350 pcs)
Образцы будут отправлены в течение 5 дней после оплаты; Официальные заказы будут отправлены в течение 25 дней после оплаты.
Группа Продуктов : Системы солнечного освещения с FM-радио